Barking dogs, neighbors partying, crying babies, loud thoughts, or even traffic noises. These are all things that are guaranteed to keep you awake at night. But you don't have to, thanks to the white noise machine.
White noise machines are a great addition to our night routine if sound distractions threaten our sleep. 
Their soothing humming sounds help us fall and stay asleep. However, purchasing a white noise machine is not a simple open and shut case, you need the right machine for that restful night's sleep.
In this guide, we go over a list of the best white noise machine and then a guide on how to choose the best for you.
Best White Noise Machines

Best Overall
The Sweet Zzz White Noise Machine is the most versatile white noise machine we found. The 29 sounds, 8 colors, egg-shaped portable white noise machine has plenty of features that make bedtime a sheer joy.
We chose it as the best overall because it was better in just about everything. It had the most realistic sounds, helpful automation, and the memory function was a bonus.
Sweet Zzz White Noise Machine comes with 29 sounds, 15 natural sounds, 7 fan noises, and 7 white noises. It comes with a timer, designated in 30,60, or 90 minutes' auto time off. It plays all night long and has an incredible 32 level volume control. 
It can get very loud to mask noises such as parties and can get low enough to provide lulling background audio. 
The cute egg-shaped white noise machine has USB charging and a headphone jack at the back. It takes 2.5 hours to fully charge and can play up to 12 hours.
From our tests, we didn't notice any looping, which is great as that often wakes many of us up. The device has a memory function that saves the last settings so that you can continue with your preferred settings the next night.  
The 8-night light colors are beautiful and their brightness can be adjusted. You can set the colors to change repeatedly, or just have one-night light color all through the night. You can also play the white noise machine without turning on the lights.
Features: 
29 sounds, 15 natural, 7 fan noises, and 7 white noises.

8 Night light colors

32 levels volume control

Portable, USB charging, 3.5mm headphone jack

3 Timer options 30, 60, 90 minutes
Our readers get the best price on Sweet Zzz Products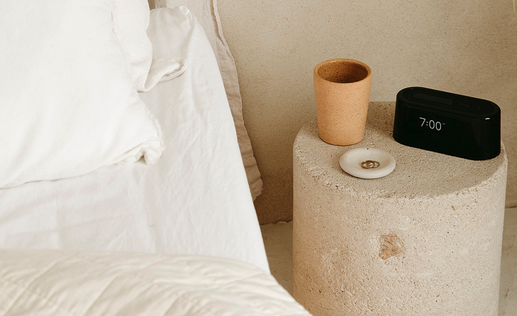 Best Luxury Choice
Loftie is out to replace smartphones in the bedtime routine. Everything about this alarm/white noise machine is dedicated to keeping you in a state of blissful calm. Removing the distracting blue light and social prompts of the smartphone from bed. 
The elegant graceful design speaks luxury in many volumes. It was the best luxury white noise machine we tested.
Loftie comes with a white noise machine that plays different nature sounds and white noises.
 It has an adjustable nightlight, that can blackout completely for a dark night, perfect for healthy sleep. The 2 phase alarm has a gentle wake-up alarm and another that will get you out of bed. The alarm is customizable for different alarm tones, volumes, and variety for different days of the week.
The portable, USB chargeable device comes with wellness content such as guided meditation, sound baths, and breathwork. It can connect via Bluetooth and act as a speaker for your playlist.
The features are endless.

Features 
Two-phase alarm clock

Wind down content

Sleep timer fades out overtime

Blackout mode

Nature sounds

Backup battery
Our readers get the best price on Loftie Products
Best Alarm Replacer 
Another one of the leaders in the white noise market, the restore by Hatch is an amazing box of surprises. This thing is loaded with features and though might be considered pricy, it's well worth it. I think for us the main selling point of this device was its innovative alarm replacer. The alarm is very gentle and always wakes you up like a caring person. 
Routine is very important when it comes to sleep, and the Restore by Hatches' many features ensure that you keep your sleep routine for a more productive lifestyle. 
Overall if you're serious about sleep, this device is well worth your consideration. 
Features:
Amazing alarm replacer and white noise machine all in one.
Unique sleep sounds and Wi-Fi controlled.
Night sky and sunrise lighting. 
Digital clock display that dims while you sleep
Our readers get the best price on Hatch Products
Best Smart Phone Integration
When it comes to sound variations and just number of available options, the Sound+Sleep SE white noise machine was the best we tested. 
In addition to the number of choices available this device intelligently listens to the environment and lowers or raises the volume depending on current noise level. 
The sounds themselves are very natural and have no loop and you can feel that each one was selected and worked on carefully to offer the best sleeping experience. 
Overall, if you are willing to spend some more on white noise machines the Sound+Sleep SE is worth your attention. 
Features 
Large number of background sound options 
Programmable timer
Volume calibration
High quality build 
Energy efficient
Adjustable tone
Our readers get the best price on Sound of Sleep Products
Snooze Go White Noise Machine
Best For Travel

Small in size yet with a great performance. When it comes to portability it doesn't get better than the Snooze Go white noise machine.
Snooze Go is an ultra-portable sound machine that doubles as a Bluetooth speaker as well. 
It comes with 6 white, pink, and fan noise settings. With a proprietary algorithm that generates sound in real-time, you never have to worry about looping sounds.
When left plugged in overnight, it can give you 20hours plus of run time. The small size is incredibly travel-friendly and the Bluetooth feature allows you to use it as a portable speaker.
Features 
High-Capacity Rechargeable Battery

Portable

Non-looping sounds

Portable speaker
Our readers get the best price on Snooz Products
White Noise Machine Buying Guide
What Is A White Noise Machine? What Is It For? 
A white noise machine or sound machine is a device that generates or plays sounds that mask other noises to help your mind focus, relax, or fall asleep.  A white noise machine does not necessarily emit white noises only, some machines play recorded sounds that are more pink and brown in nature.
The most popular use of white noise machines is to fall asleep and stay asleep. White noise is a noise that contains many frequencies at equal intensity. It works well to fill in gaps caused by sudden noises, loud noises, or uneven frequencies.  We hear white noises in everyday life, like whirring fans, humming air conditioners, hissing radiators, and more. This humming sound helps mask all other noises, which in turn gives us mental clarity and the ability to sleep or focus.
White noise machines are also used for work, studying, and traveling purposes. The end result is always the same, a relaxed enough mind to help us focus on what we are doing whether it's sleeping, working, studying, or even meditating.
How To Shop For The Best White Noise Machines And What To Look For?
The market is inundated with White Noise Machines and getting the right one can quickly turn into an overwhelming or money-wasting task if you do not know what to look for. In this section, we look at how to shop for the best white noise machine and what to look for.
  Sound Realism and Volume Level
There are two types of white noise machines; mechanically generated sounds and recorded sounds.
 With recorded sounds noise machines you want one that has clear and realistic sounds.  Real-world recordings, unlike electronically produced sounds, are richer and more realistic.
Volume control is another important aspect. The more volume options you have, the better. You want to find just the perfect volume to fall asleep to.
 Studies also show that loud noises from a white noise machine are harmful to the baby. Doctors advise that a baby should not be exposed to more than 50 decibels of sound. 
Some machines have adaptive technologies that can help them adjust the volume when the noise in your environment changes.
 Such machines can increase volume to cover sudden noises in the surrounding, ensuring your sleep is not interrupted.
A volume that can slowly adjust to a comfortable level is a great feature.
 Number of Available Sounds
If you prefer a recorded sound machine, make sure you go for one with a variety of sound options. 
Different sounds help you set the mood for different times, situations, and emotions. There are times you want to fall asleep to the sounds of waves, there are times you want to listen to smooth jazz, you should check that you have all the options you like.
 A white noise machine is not only used for sleeping, others use them for their work environment. A machine with various sound options can help set up a real-life ambiance.
One of the major problems highlighted with noises during sleep is the change of noise. White noise machines with loop sounds can be very distracting. 
When the sound ends and starts again, the brain registers a noise change that can actually wake you up. Be wary of white noise machines with short loops.
 If you have to go for a machine with looped sounds, make sure they have a clean loop feature. The clean loop feature ensures your ear can't detect when the sounds change.
There are white noise machines at every price point. Some are costly and come with an assortment of advanced features. 
If you can do without night lights, alarms, or clocks, then you can find a good machine below the $100 price point. 
However, you have to check that the machine is value for the price.
 Some sound machines are affordable but lack very important features like volume control or timers. Check that the noise machine has what you need and at a fair price compared to others in its category.
 Reviews That Speak Well for Both the Machine and Its Company
it's easy to feel overwhelmed. However, reviews will help you pick the wheat from the chaff. 
There aren't a lot of professional reviews when it comes to white noise machines, however, there are plenty of customer reviews. 
Check what previous buyers say about that particular sound machine and check the company's reputation.
 One way to figure out what type of company you are dealing with is to check their customer service. How do they respond to their customers, are there many unanswered complaints? Et Cetra.
Knowing how essential a white noise machine is to one's sleep, you may want to consider a portable one. This way, you can carry it on your travels or move it with ease. 
If you travel a lot, consider a portable machine that allows for USB charging. Some portable machines require being plugged in into a power outlet, which does not make them very ideal for travel.
 It shouldn't be hard to find a portable white noise machine; most recorded noise machines are portable. Mechanical white noise machines are mostly heavier because of their makeup.
While not as important a feature for most adult individuals, night light noise machines are popular for infants and toddlers.
 Most noise machines with this feature, offer some level of control of the light feature. 
Some machines can change into different colors; others can project imagery onto the ceiling. Which night light sound machine to get will solely depend on your tastes and preferences as well as your child's. 
For adults, noise machines with lights are good for reading and creating an ambiance like a sunrise glow to help you wake up. 
Some white noise machines with this feature, offer different shades of light that change with the playing sound. Some can be set to fade out to avoid disrupting your sleep.
Is A White Noise Machine For You? White Noise Machine Advantages
  Benefits of a white noise machine
It's difficult to fall asleep in a noisy place and in utter silence if your mind is distracted by loud thoughts.
White noise blankets all other noises with a focused soothing sound that helps you fall and stay asleep.
A white noise machine helps prevent sudden noises in the night from waking you up. They can cover the snoring partner, the barking dogs, traffic, crying babies, and help you get uninterrupted sleep.
White noise has been known to help the mind focus and many people use it to increase their productivity.
White noise machines in the office or home workspace help dull the noise of ringing phones, photocopier machines, chatting colleagues, playing kids, Tv, and helps you focus more. 
Some people would be tempted to listen to music to help them focus. However, music has lyrics and instruments that can cause you to get distracted and start singing or dancing along. 
A white noise machine will help you focus on the task before you, by also eliminating silence which can cause the brain to wander
ravel can be stressing especially when you are doing it with kids. Bringing a white noise machine on your travels can help drown out plane noises, passenger noises, and help you sleep or stay relaxed.
 A portable white noise machine with a headphone jack can come in real handy on such occasions.
Most people find using white noise machines in hotel rooms helps them relax and fall asleep better. A portable white noise machine is very useful in these instances. It can help you get the sleep you deserve before that big meeting or deal closing.
White noise has been used to put babies to sleep for decades. Whether it's rocking them and playing slow lullaby music, or placing them on top of washing machines, for the vibrating sound to put them to sleep, or taking them on car rides. 
White noise has long helped put babies to sleep.A white noise machine soothes and calms the baby with comforting noise, helping them fall asleep and stay asleep. These machines also help mask noises that can startle the baby and wake them up. 
Some white noise machines come with additional features that really help the young ones have an easier time falling asleep. 
Some have night lights; others have bedtime stories with accompanying sounds for gently winding down.
The chaos in hospitals can trigger anxiety. People buzzing, beeping machine noises, cries, opening, and closing doors.
This can affect your healing and recovery negatively. White noise helps to create a soothing and calming environment while you rest and recover.
People with ADHD often have a hard time concentrating. Their mind is easily stimulated by external factors such as sound. 
Noises act as big distractions that can impair a person's focus and diminish comfort. A white noise machine helps mask or block out the distracting noises, creating an environment where it is easy to focus and function better.
To Sum up…
There is no argument that white noise machines are a great addition to our lives. They are not only beneficial for our sleep but boost our productivity, and improve our mental well-being. In this guide, we have reviewed some of the best white noise machines in the market today.
 With Sweet Zzz White Noise Machine being our best overall for its versatility. 
Others like Loftie came out as the best in the luxury category. Sound Scene Turtle, white noise machine, was the best we tested for kids, and Snooze go was the best in terms of portability.
To help anyone in the market for a white noise machine, our "what to look for guide" highlighted important things to check when shopping for a sound machine. Some of the most important points include sound realism, volume control, sound options, value, and looping sounds. 
The absence of the latter is what you want to look for.
Let's remember that there are many benefits of a white noise machine, like improved sleep, mental clarity increased productivity, and less stressful traveling.
That's all from us for now until next time.
We may receive a referral fee each time a consumer uses a link or code on this website to purchase a product with, for more info visit our disclosure page.